Freezing Fat Removal NON – Surgical No Needle
CoolSculpting is a non-surgical method that permanently destroys unwanted fats in order to shape the body.

Fat CELLS
AFTER WEIGHT LOSS
A) What happens when I lose weight?

When weight is lost, the volume of fat cells decreases, but the number of fat cells remains the same.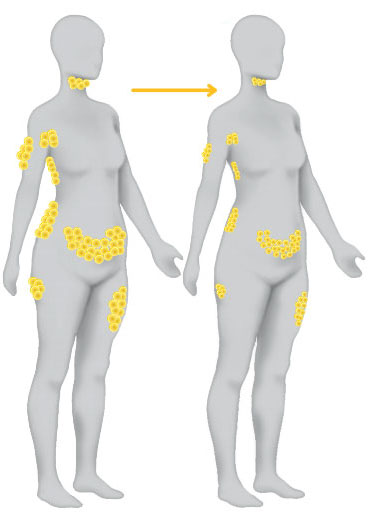 Fat CELLS
AFTER COOLSCULPTING®
B) What happens after CoolSculpting® treatment?
After treatment that destroys the fat cells by targeting them, fewer fat cells will be present on the treated area. There will be no change on untreated areas.
If the patient gains weight after the CoolSculpting® procedure, the remaining fat cells can absorb excess fat.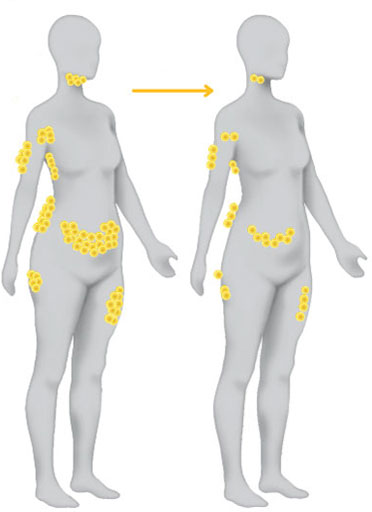 REDUCES FAT PLATE IN DIFFERENT TREATMENT ZONES
The treatment plan to be implemented in order to achieve the desired results is decided by considering the individual needs, body shape and objectives.
After CoolSculpting® treatment, fat cells are destroyed and metabolically excreted shortly after the procedure.
CoolSculpting is a technology developed to shape the body, eliminating regional excesses that are resistant to diet, even exercise. FDA-approved CoolSculpting is a safe treatment that freezes unwanted fat cells and most important is that it is non surgical.
Bunun en iyi kanıtı ise bugüne kadar tüm dünyada 5 milyondan fazla CoolSculpting seansı uygulanmış olmasıdır. İşlem yağ hücrelerini kalıcı olarak yok eder.